Holding Elections During a Pandemic: the South Korean Experience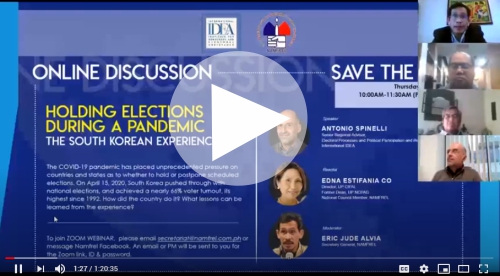 The COVID-19 pandemic has placed unprecedented pressure on countries and states to hold or postpone scheduled elections. On April 15, 2020, South Korea pushed through with national elections, and achieved a nearly 66% voter turnout, its highest since 1992.

Could elections be held during a pandemic? How did the country do it? What lessons can be learned from that experience? What measures could be taken to ensure that democratic processes continue during extraordinary circumstances?

International IDEAs Senior Regional Advisor Mr. Antonio Spinelli and NAMFRELs Dr. Edna Co presented in an online discussion last April 30, 2020 some observations and insights on South Korea's experience in conducting elections during a pandemic and lessons to be learned from the experience.